Jasmine Essential Oil is good for the body

Jasmine Essential oil is traded in a "solid form" by using a solvent extraction method. When used, the jasmine essential oil is extracted from the solid state with alcohol to obtain a "complete" essential oil.Jasmine essential oil is known as the "king of essential oils." The production of jasmine essential oil is very small and therefore very expensive. It has an elegant scent, which can relieve depression, invigorate the spirit and enhance self-confidence.This essential Oil can also care for and improve the skin's dry, dehydrated, oily and sensitive conditions, reduce stretch marks and scars, increase skin elasticity, and make skin feel soft and supple.Put a few drops of jasmine essential oil in the hot water for soaking your feet to achieve the purpose of invigorating blood and meridians.
Jasmine plants are cold in nature. Jasmine essential oil can be steamed and used as facial fat and head oil to grow hair and moisturize the skin.Jasmine is an evergreen, perennial shrub, and some are climbing shrubs, which can grow to a height of 10m. The leaves are dark green, the flowers are small, star-shaped, and white. They have the strongest Fragrance when picking flowers at night. Jasmine flowers must be picked at dusk and when the flowers are first blooming. In order to avoid the setting sun from refraction, the pickers must wear black clothes.

About 100 components can be analyzed in jasmine essential oil, the main chemical components are benzyl acetate, linalool, benzyl alcohol, indole, benzyl benzoin ester, jasmone, geraniol, methyl (o) Aminobenzoate, trace amounts of cresol, farnesol, vinyl benzoin ester, eugenol, nerol, benzoic acid, benzoin aldehyde, terpineol, neroli, phytol, etc.

Description:
Jasmine Absolute Essential Oil is an incredible oil known for its distinctive, exotic floral aroma that is often used in perfumery. Its intoxicating smell is known as an aphrodisiac that increases feelings of love and romance. Additionally, it is uplifting to the senses and helps to create a positive atmosphere. Other popular uses include helping to rejuvenate and refresh the skin when added to skincare products and also soothing a sore throat when problems occur.
Uses:
Widely used in various kinds of high-quality daily essence and edible essence.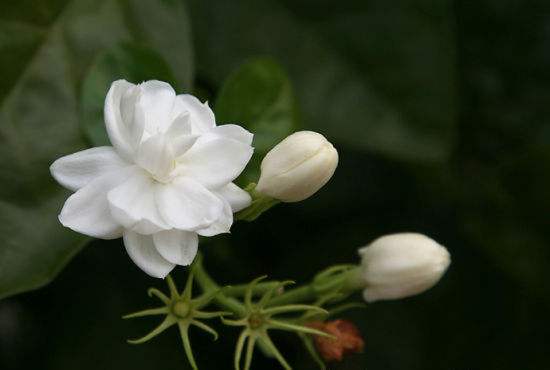 Caution:
For external use only. Other than aromatherapy, dilute with a carrier oil. For topical use, rub a very small amount on the inside of your elbow area to test for any allergic reaction before use. Keep out of the reach of pets. Essential oils can be potentially toxic to pets at certain concentrations. Cats can be especially sensitive to essential oils. Avoid contact with eyes, keep out of the reach of children, and far away from fire. If pregnant, consult with your health care provider before use.
FAQ:
1.What is an essential oil?
Essential oils are any plant-based, volatile oil that contains a mixture of chemical compounds and have an aroma characteristic of the plant. Commonly used essential oils are eucalyptus oil, clove oil, tea tree oil and aromatherapy oils.
Vaporiser solutions used in steam vaporisers often contain one or more essential oils in lower concentrations to those used in aromatherapy.
2.What are essential oils used for?
Essential oils are commonly used in aromatherapy to bring about mental and physical wellbeing. Aromatherapy is the practice of blending different therapeutic essential oils to stimulate a desired response. Essential oils can be applied or massaged into the skin, inhaled or immersed in water.
While aromatherapy has been practiced for centuries in various cultures, it has not yet been properly evaluated for medical effectiveness. However, it remains a popular complementary therapy for helping with certain health conditions.
Examples include:
Eucalyptus oil: nasal decongestant, disinfectant.
Clove oil: toothaches.
Tea tree oil: antifungal, antibacterial, antiviral properties.
Peppermint: digestive disorders.
Lavender: anxiety, insomnia and restlessness.
Specifications can be customized by customers.

Looking for ideal Jasmine Essential Oil for Diffuser Manufacturer & supplier ? We have a wide selection at great prices to help you get creative. All the Jasmine Essential Oil Young Living are quality guaranteed. We are China Origin Factory of Jasmine Essential Oil Aromatherapy Benefits. If you have any question, please feel free to contact us.